Contact and opening hours

Contact Adler Apotheke
Adler-Apotheke
GaleniCare AG
Untertor 39 / Bahnhofplatz 2
8400 Winterthur
We are open for you 365 days a year
Monday - Friday

07:45 - 20:00

Saturday

07:45 - 18:00

Sunday/Friday

10:00 - 17:00
Contact mail order
If you need to ship items in the future, help is available by calling the following number:
052 269 08 52
or by reading the FAQ on shipping here.
Directions
Adler Apotheke is located at the entrance to the old town. You can find us at Untertor 39 / Bahnhofplatz 2 in Winterthur, right by the entrance to the "Untertor", across from Restaurant Gotthard and just a few metres from the station.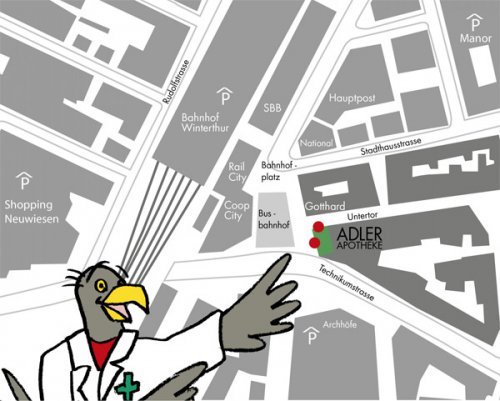 Arriving by public transport
It is easy to get to Adler Apotheke using public transport. You can find us right next to the bus station, diagonally opposite Winterthur train station.
Arriving by car
The best option for parking is the Archhöfe underground car park. Access is via Lagerhausstrasse and Meisenstrasse. The car park is open 24 hours a day. There are 191 parking spaces. The prices are as follows (as of April 2019):
CHF 2.00 / 1 hour
CHF 4.00 / 2 hours
CHF 6.50 / 3 hours
CHF 9.00 / 4 hours
CHF11.50 / 5 hours
CHF 2.50 / each additional hour
Contact pill packers
Taking the right medication at the right time is important for therapeutic success. Sometimes when you are taking several medications, it is difficult to keep track of things. The Adler Apotheke pill packers pack your medication into small sachets under the strictest hygiene and safety regulations. So you always know what medication you need to take and when.
About Adler Pharmacy